It's interesting to learn about the collaboration between Snap Inc. and Oppo to introduce new features in the ColorOS 14 update. Here's a summary of the key points from the provided information:
New Features:
Lock Screen Shortcut for Snapchat: Oppo users will now have the ability to set a dedicated lock screen shortcut for Snapchat. This allows quick access to the Snapchat camera directly from the lock screen. The shortcut is conveniently positioned at the bottom left of the display, providing easy access for users who enjoy capturing and sharing moments with their friends.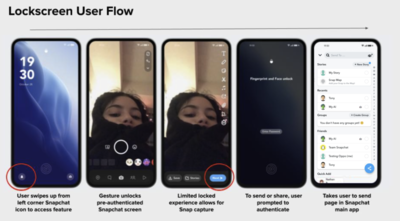 READ MORE:
Snap Map Widget on Oppo Shelf Card: ColorOS 14 now includes a Shelf Card featuring a Snap Map widget. This widget allows users to integrate a friend's location on the Shelf Card, providing a quick overview of their recent Snaps and activities. Users can access this feature with a simple swipe-down from any location within the operating system.
Rollout Details:
The rollout of these features has already begun for Oppo devices running the ColorOS 14 update.
Statement from Oppo: Haizhou Zhu, ColorOS Senior Product Manager at Oppo, mentioned that the partnership with Snapchat is an exploration into the possibilities of smartphone operating systems. The integration of smart, human-centric features aims to provide a smarter and smoother operating system, enhancing the Snapchat experience and other features on Oppo devices.
Statement from Snap Inc.: Juan David Borrero, Director of OEM Partnerships at Snap Inc., expressed that the collaboration with Oppo reflects their commitment to building user-friendly experiences. The new features are tailored for Indian users who enjoy using the camera to visually express themselves with friends and family, and these additions are expected to elevate their everyday smartphone experience.
In summary, this collaboration between Oppo and Snapchat aims to enhance the user experience by integrating Snapchat features directly into the Oppo ColorOS 14 update, with a focus on quick access to the Snapchat camera and the integration of Snap Map on the Oppo Shelf Card.